Community News
A 1950s Murder Mystery play at our community!

Lights, camera, action! Recently, residential living residents put on their leather jackets and poodle skirts for a 1950s murder mystery at The Village at Gettysburg! The residents enjoyed being actors and actresses for the afternoon and the audience thoroughly enjoyed guessing the suspect! At intermission, everyone gathered together for burgers and milkshakes, while also learning the Hand Jive taught by director of Life Enrichment, Jess Sheahan. Our Life Enrichment coordinator, Nikki Richwine, served as director of the murder mystery and kept the mystery alive throughout the entire show. It was a real whodunit at our community!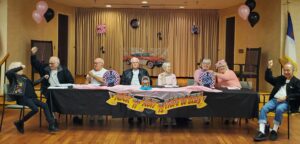 Life Enrichment Programs & Events
Please visit your Inspirations catalog for a list of ongoing programs.