Community News

A fun time making ice cream and gathering together!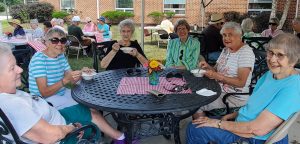 Here's the scoop! On August 22, residents learned how to make ice cream. By using two electric ice cream makers and a blender for a dairy-free peach sorbet, as well as relying upon several methods and techniques, we successfully made five different flavors of ice cream and even whipped two flavors with crushed cookies. Thankfully, nobody had to use the old-fashioned hand crank ice cream maker!
On August 24, we enjoyed our ice cream with friends and neighbors at the ice cream social. The dairy-free peach sorbet and banana were two popular flavors! A big thank you to the life enrichment team for teaching us how to make homemade ice cream and providing the toppings at the social. Making ice cream and gathering together are just a couple ways that we have fun at The Village at Gettysburg.
Flower arranging with Jess Sheahan!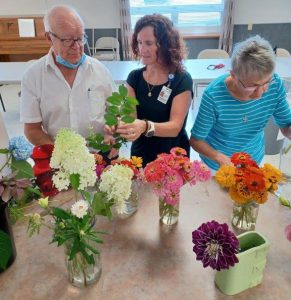 In August, residents learned how to arrange flowers from Jess Sheahan, director of Life Enrichment. We used flowers and filler sources from Jess' cutting garden and Terra Farms and Field and learned design elements like space, line, height and shape in addition to preparing flowers for arranging. After learning the technical aspects of flower arranging, we enjoyed filling our vases with beautiful and unique arrangements to take home.

A big thank you to Jess for teaching us about flower arranging!
Life Enrichment Programs & Events
Please visit your Inspirations catalog for a list of ongoing programs.